Hi and welcome!
My live broadcasts are now mostly at
https://youtube.com/truckerkent
. Please subscribe there. You will get the cool advantage of viewing live broadcasts on any device supporting Youtube including TVs, phones and tablets.
I hope that you will find my broadcast interesting and nice when driving around in Sweden. In my channel you will meet many nice people and also some nice Moderators. Please be polite and nice when you talk with others in the chat-room.
I may mute the microphone when I am on the phone. So please be patient. I will be back right after.
You can follow me by GPS at:
http://www.greenalp.com/RealtimeTracker/index.php?guestmode=1&viewuser=truckerkent
About my truck...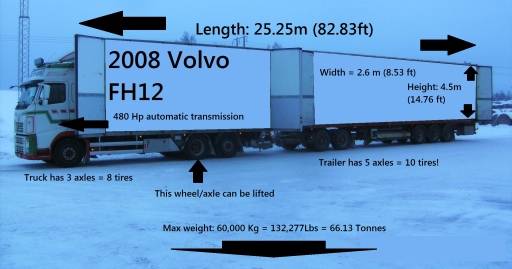 2008 Volvo FH13
480 Horsepower, automatic
3 axles = 8 tires & can lift one axle
Trailer has 5 axles = 10 tires
Length of all is 25.25 meter = 82.83 feet
Width is 2.60 metres = 8.53 feet
Height is 4.5 metres = 14.76 feet
Max weight 60,000 KG = 132,277 Lbs (pounds) = 66.13 Tonnes
Facebook page:
http://www.facebook.com/kenttheswedishtrucker