~~~ About Gil's Channel ~~~
Gil's Channel
started webcasting (under a different name) in 2009 on Justin.tv and then moved to Vaughnlive.tv in 2014. These days, the channel isn't live that often. But we have great, friendly people who come in to participate, no matter how infrequent the casts. Newcomers are always welcome. Enjoy some music, chat us up, but don't be rude. Rude doesn't work here.
Gil & Mrs. Gil (Gilda)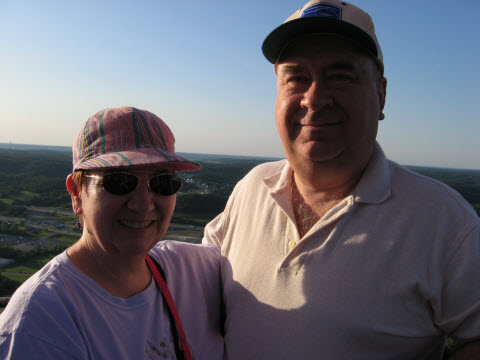 Thanks to everyone who supported this webcast over the years.

--+---+---+---+---+---+---+---+---+---+---+---+---+---+---+--
Be sure to look for these other great and usually friendly Vaughnlive channels:
http://vaughnlive.tv/fiddleheadj
http://vaughnlive.tv/82mako20
http://vaughnlive.tv/craigtube
http://vaughnlive.tv/dustindubris
http://vaughnlive.tv/islandtime
http://vaughnlive.tv/jakeanddar
http://vaughnlive.tv/optomod
http://vaughnlive.tv/pamjam
http://vaughnlive.tv/reggieroller
http://vaughnlive.tv/rockinron
http://vaughnlive.tv/stevejamesbarr
http://vaughnlive.tv/toenail
(We have lots of great friends who do not cast. Apologies if I missed the channel of a friend who does cast. Let me know and I will add it.)
--+---+---+---+---+---+---+---+---+---+---+---+---+---+---+--
Gil's Channel Tech Specs
Don't laugh. What I have gets the job done.
Hardware:
Home-built PC (components purchased May 2014 from MicroCenter, Brentwood MO), Corsair case, Gigabyte Z97-HD3 rev. 1.0 motherboard, Intel Core i5 4670K CPU (3.40GHz) with Intel HD 4600 onboard graphics, 16GB dual channel DDR3 RAM (expandable to 32GB), Samsung E2420L monitor, IBM ThinkVision L190 monitor (2nd display, currently on the fritz), Creative Labs Sound Blaster Z audio card, Samsung 840 EVO 250GB SSD, Seagate ST4000VN000 4TB NAS HDD
Backup drives: Western Digital Black WD4001FAEX 4TB SATA HDD, Seagate Backup Plus 8TB USB HDD, Seagate Expansion Portable Drive 4TB. (Yes, I maintain 3 backup copies. The Expansion Portable Drive is sometimes stored "offsite".)
Microsoft LifeCam HD-3000
Shure SM35 headset mic (new as of September 2017)
Harbinger LvL series L502 mixer (new as of September 2017)
Cyber Acoustic 2.1 external speakers, don't know the model # (You can't see or hear those. They sit behind the monitor. It's how I hear the cast.)
Ion USB turntable (rarely used... there is an objectionable hum in the line out)
Logitech USB K120 keyboard, Logitech wired USB M100 mouse
CyberPower UPS, model # n/a at the moment (The cast can survive a brief power outage.)
Software:
Items marked with an asterisk (*) are commercial, i.e. "paid for", software. Items not marked are freeware. In some cases, there are freeware versions of paid-for apps I use. I'm only listing software that contributes in some material way to the cast or the channel graphics.
*Windows 8.1 (I'm happy with it and have no plans to move to Win 10 on this PC.)
*ManyCam 6 Studio (upgraded August 2017)
Open Broadcaster Software (OBS) Classic 64-bit (The output of ManyCam is a video source for OBS. OBS streams to Vaughnlive. Someday I'll get around to upgrading to OBS Studio.)
*MediaMonkey Gold (library management, tagging tool and media player)
AMIP plug-in (makes the track info available for on-screen display)
*SoftMaker PlanMaker (spreadsheet for managing music requests)
Firefox (primary browser, used to monitor channel and for chat), Chrome (secondary browser, used as needed)
*SnagIt 10 Editor (used to create the channel banner and other graphics)
ThinkingBig FontViewer 2.0 (helps with font selection for the channel banner and other graphics)
Audacity for Windows 2.1.3 (interfaces with Ion turntable, also used for miscellaneous audio editing)
Skype (for the rare time I add a caller to the cast)
Exact Audio Copy (CD ripper)
*XRecode 3 (format converter, including .cue sheet track extractions)
*beaTunes 5.x (track analysis and tagging tool)
VLC Media Player (alternate media player)
SyncBackFree (for backups)
Greenshot (image capture)
Program Library:
342,342 music files stored locally (2469.6 GB) as of December 9, 2017. (This number changes often due to acquisitions and due to library maintenance.)
Network:
Charter Spectrum ISP, 100 Mbps down, 5 Mbps up (nominal... actual speeds vary, plus or minus)
Cisco DPC3208 (cable company-supplied modem)
Netgear Nighthawk AC1900 (R7000) WiFi router (My desktop is direct wired to this router. The rest of the household is on WiFi.)